Social media marketers spend their whole days inside different dashboard and platforms. From scheduling content to engaging with followers to getting on influencers' radars and measuring the results, there seems to be a tool for anything.
But given how quickly the social media landscape changes, too many of those tools all have the same features that they've always had, failing to keep up with the functionality that today's marketers need. This might be why skills and resources are still the second biggest challenge social media marketers say they face in 2017, according to Ascend2.
And despite all the time those tools promise to save, Social Media Examiner's 2017 Social Media Marketing Industry Report still found that nearly 20% of marketers spend 20 hours or more inside social networks each week.
Could it be that the array of available social media tools, as presented by LUMAscape, is more about quantity than quality?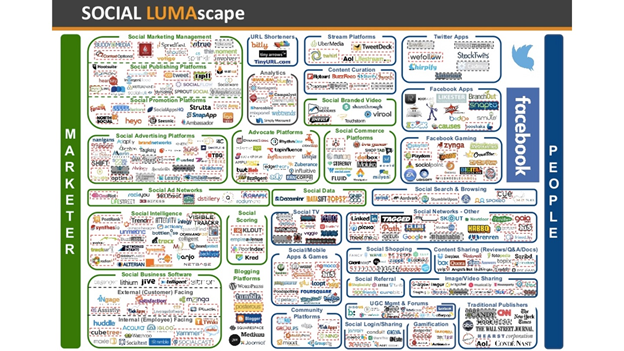 Even the go-to favorites are falling short. Hoot can't help you build a retargeting audience, AgoraPulse can't auto-favorite tweets from the people you don't yet know you ought to engage with, Buffer can't sync with your CRM, and Sprout can't auto-post links to your best evergreen assets. It seems that today's social media tools are unable to handle the tactics and challenges modern social media marketers face.
Luckily, there are some SaaS tool makers who are still ahead of the trends and curves. Let's take a look at some newer social media tools that can help you stay at the top of your game.
1. Zoho Social
First, we have Zoho Social, a social media management tool that brings new advancements to the regular full-suite SMM tool. It covers all of the basic necessities you want from a social media management tool, like easily scheduling posts, bulk uploading scheduled posts, curating content and social monitoring.
But it also sets itself apart from older tools in many ways.
The collaboration features are great for brands' increasingly complex and important social campaigns, repeating posts is a time-saver for busy marketers, and custom reporting lets you focus in on the metrics that matter.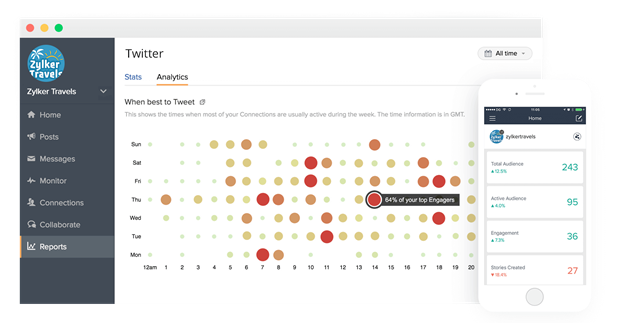 A particularly interesting feature is one called "Time Warp," which lets you schedule a Facebook post to go live at the same time of day in different time zones.
2. SentiOne
Next we have Sentione, a social media monitoring tool that that helps monitor, analyse and react to whatever is happening online
You can instantly find people talking about your company on social media, get actionable insights, react and engage in real time, and analyze your results. You can also use the tool for researching competitors and trending or valuable topics on social media, as well as sharing groups of alerts with your various team members, clients and other stakeholders.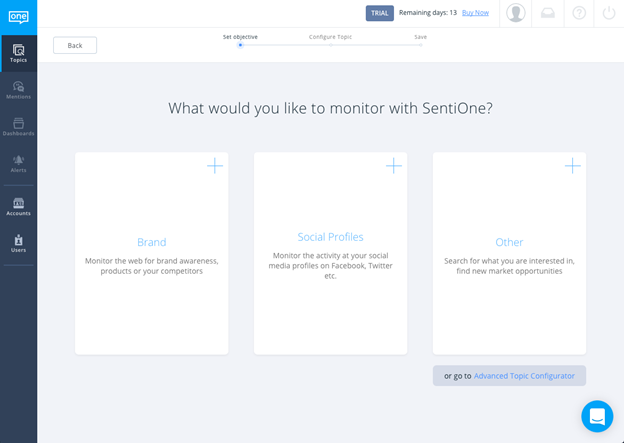 But these features are incredibly honed in on the current needs of marketers.
For example, you can't ignore influencer marketing in 2017. And Launchmetrics predicts in their State of Influencer Marketing 2017 report that organic social media content will be the most effective tactic for working with influencers this year. Sentione has a built-in influence score to let you see the potential influence of a message or audience member right away.
The tool also offers email pushes and notifications for sentiment analysis notifications and easy collaboration around your monitoring.
3. Narrow.io
If your brand is specifically focused on growing your Twitter audience, you'll definitely want to look at Narrow.io. It will help you build and engage with a larger and more targeted following on the platform, using smart automation.
Once you select specific keywords to target for your brand, Narrow.io will automatically identify users talking about those topics and interact with them for you.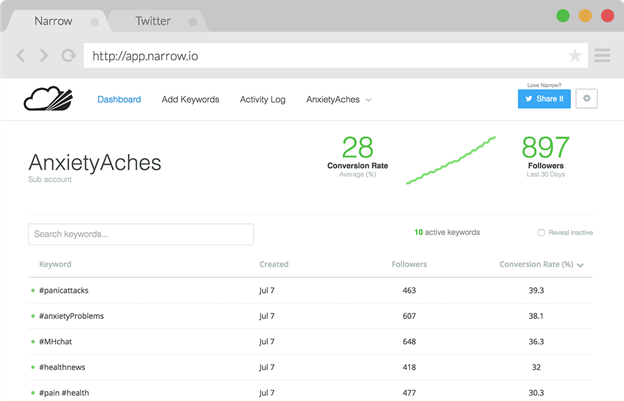 You can have it either like tweets using those keywords or automatically follow people talking about those topics your audience cares about.
This will let you scale your audience growth on Twitter in a way that's personalized and effective. Finding traffic and building an audience remains a top challenge for marketers, and Narrow.io addresses that in a way that's automated without having to sacrifice relevance or quality in the process.
4. Clkim
Clkim, our next recommendation, lets you create shortened URLs for social media without losing the brand recognition or simplicity of your brand website. It's a service for custom, branded shortlinks.
But beyond the branding and traffic benefits, Clkim offers several other advanced features you won't see elsewhere, earning it a reputation as the most versatile URL shortener.
Contextualize marketing by using its smart redirects based on the end user's operating system or location, embed retargeting pixels in your shortlinks to retarget people engaging with them, or even monetize your links with interstitial ads.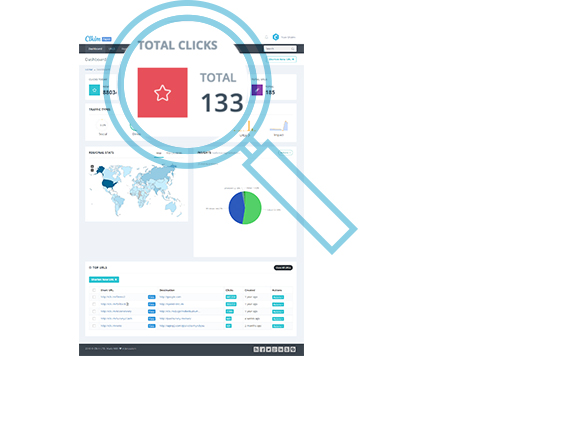 These personalization features let you improve the experience for anyone clicking on the links, while still greatly benefiting marketers with tracking and monetization.
For something like influencer marketing, when you're having other people share links for your brand on social, having those marketing and tracking opportunities within the shortlink itself opens up a lot of possibilities for earning and attributing revenue to these campaigns.
5. Edgar
Finally, we have Edgar, another social media automation tool, this one focused on auto-scheduling to extend the life cycle of your social content.
With Edgar, you can build libraries of different content categories, such as blog posts, promotional content, curated content from third-party publishers, and more, and set a schedule for when content in each category will be posted. Then the tool automatically posts according to the content categories and reuses each post more than once (unless you say otherwise).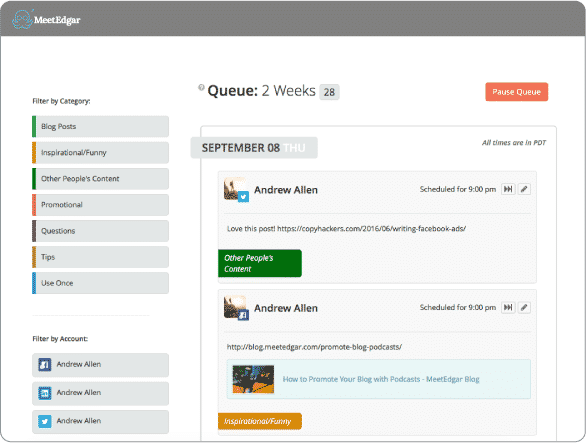 Automatically promoting a specific asset more than once allows you to manage social media content more efficiently, while also amplifying messages to people who may not have engaged with it on its first publish.
Find the Right Tools
Think about your own biggest social media marketing challenges right now. Are you really using the best and most advanced social media tools to fight them and accomplish your marketing goals?
The SaaS landscape is a vast one, and there are solutions out there to help you to streamline the tactics your strategy calls for. You just need to make sure you're bringing the best help along for the ride.
Source link